By: David Hytner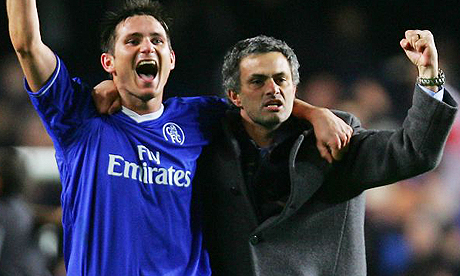 Jose Mourinho remains determined to bring Frank Lampard to Internazionale and he indicated that he would leave the door open to the Chelsea midfielder until the very last moment.
"The transfer window is open until August 31 and we need a midfielder," said Mourinho yesterday, as he officially started work as the new manager of the Italian champions. "Lampard is at Chelsea but I have worked really well with him. I worked with Frank for three and a half years [at Chelsea], there is an unforgettable relationship. But in this moment, I respect players and the clubs."
Mourinho made Lampard his priority signing when he took over at San Siro, following a break from the game after his departure from Chelsea last September. He intends to play a 4-3-3 formation, with three forwards rather than a single spearhead supported by two wingers, and he sees Lampard on the left of a midfield trio as integral to the plan.
"I need a midfielder, I told the players too, because it was only fair," added Mourinho. "And I also told [the technical director Marco] Branca and [the president Massimo] Moratti a month ago. I don't have any problem repeating it."
Lampard has reached an impasse in his talks over a new contract at Chelsea. He believes he merits a five-year contract on improved terms but he has been offered four years. Chelsea have rejected a €10m (£7m) offer from the Italians and have insisted they will not negotiate.
Mourinho, meanwhile, is not expected to make a move for Didier Drogba. He has an abundance of attacking options, which have been swelled further by the £10m purchase of Mancini from Roma, and he is more likely to sell a striker than to buy one. Drogba has suggested that he might stay at Chelsea, although the club will not offer him a new contract.
This article was taken from: Guardian.co.uk